Philosophy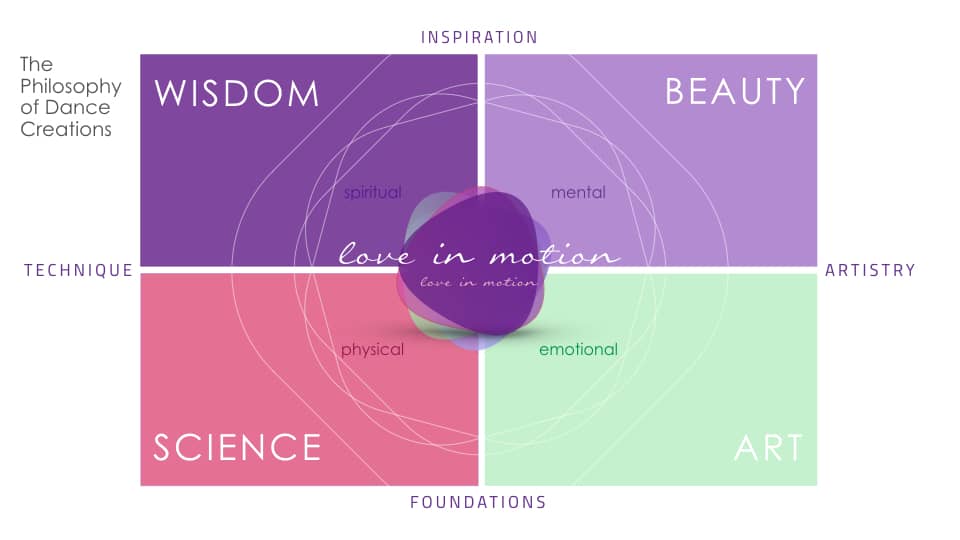 LOVE IS AT THE HEART OF EVERYTHING WE DO
Our point of difference is our holistic approach … put simply, we offer a delicate balance between technique and artistry. At the foundation there is acceptance and kindness, and a strong base of movement skills that will develop your child for dance and also for life. Artistry is part of the learning and is developed alongside technique, creating an appreciation for beautiful movement and inspiring artistic expression. As your dancer journeys through the programs they will build upon the foundations, sequentially layering technique, and confidence in their ability to move with a freedom of expression, enhanced by the knowledge of how their body moves in space. Each program is developed to encompass the whole child. The social/emotional aspects are equally important as the physical and cognitive development of your child.
WHO WE ARE
We are a community of thoughtful individuals who value kindness, love, nurture & education.
We aim to promote positive well-being for our dancers to thrive in dance and in life. To enrich the lives of all members of our Dance Creations community by showing care, while modelling respect. We celebrate childhood, friendships, individuality, effort, and of course a love and joy of movement.
We delight in spending time with our dancers, getting to know them as people, and creating age appropriate class content that inspires, uplifts and challenges our students to progress at a steady and safe pace.
Our parents are confident in the knowledge that their dancer is valued for who they are, not just for their achievements.
We also offer a non-competitive, stress-free environment with well organised communication and payment systems.
And our end of year performance shines a light on our celebration of childhood. We balance the professionalism of a stage production with a real sense of inclusivity and joy.
At our core we
Cherish Childhood
We cherish all stages of childhood and believe in the magic of play based learning for our youngest dancers. Your dancer will receive age appropriate class content that inspires, uplifts and challenges them to progress at a steady and safe pace.
Lead with Kind Hearted Educators
Our Dance Educators love what they do. They love to share their passion and knowledge to uplift your dancer. Each class is sprinkled with the gift of kindness, understanding and support allowing every dancer to flourish in dance and in life.
Develop Self-Esteem with acceptance of individuality
By encouraging your dancer to appreciate their own strengths, helps them to feel more confident to take on new challenges, and become more resilient to cope with setbacks. This is how self-esteem is conscientiously nurtured.
Inspire the artist within
With programs that build solid foundations in classical ballet movement, artistry is integrated alongside technique, creating a balanced and wholistic approach to dance. We celebrate your dancer's innate joy of movement and creativity of
spirit, to inspire the artist within.
Our Method
Laurel Martyn Dance System
While studying I was introduced to the Laurel Martyn Dance System, and Laurel Martyn herself became a mentor and a major influence in my life.
Laurel believed in asking lots of questions and understanding the purpose of the content we teach in class. Her favourite question was:
"what is the purpose of the exercise?"
That question gives you insight into what you want the students to achieve (which is not always technique), it could be musicality, rhythm, co-ordination, or spatial awareness. Therefore at times, things may look "messy", but we are not about perfection "we are about learning and developing the whole dancer".
Laurel was also passionate about artistry, and movement between the poses. Her quote sums it up:
"dance is… movement… through space… in time… with quality"
Children are not designed to spend a lot of time standing still or moving slowly. If you watch them, they naturally move fast, and this teaching program works with the natural movement of a child at their development stage, and harnesses that energy, and directs it with purpose. Moments of stillness are required, and they are interwoven throughout the class, so the child learns how to concentrate, and also how to move.
As a teacher, the Laurel Martyn Dance System provides me with the freedom to create, and develop classes that meet the needs of the students in front of me, and it allows me to be uniquely me!! There are no limits with this body of work, the possibilities are endless and only really limited by self limit (a lot like life).
The Laurel Martyn Dance System is the culmination of Laurel's life as a dancer, choreographer and teacher. Find out more about Laurel Martyn here: www.laurelmartyndance.com
Our Purpose
Please find following the little flip book we put together for you, that gives you a brief summary of all of the above information and most importantly, gives you an insight into Our Purpose and the Values we live by (which define our guiding principles and way of being).